Here's a full preview of this Bar Worker cover letter example: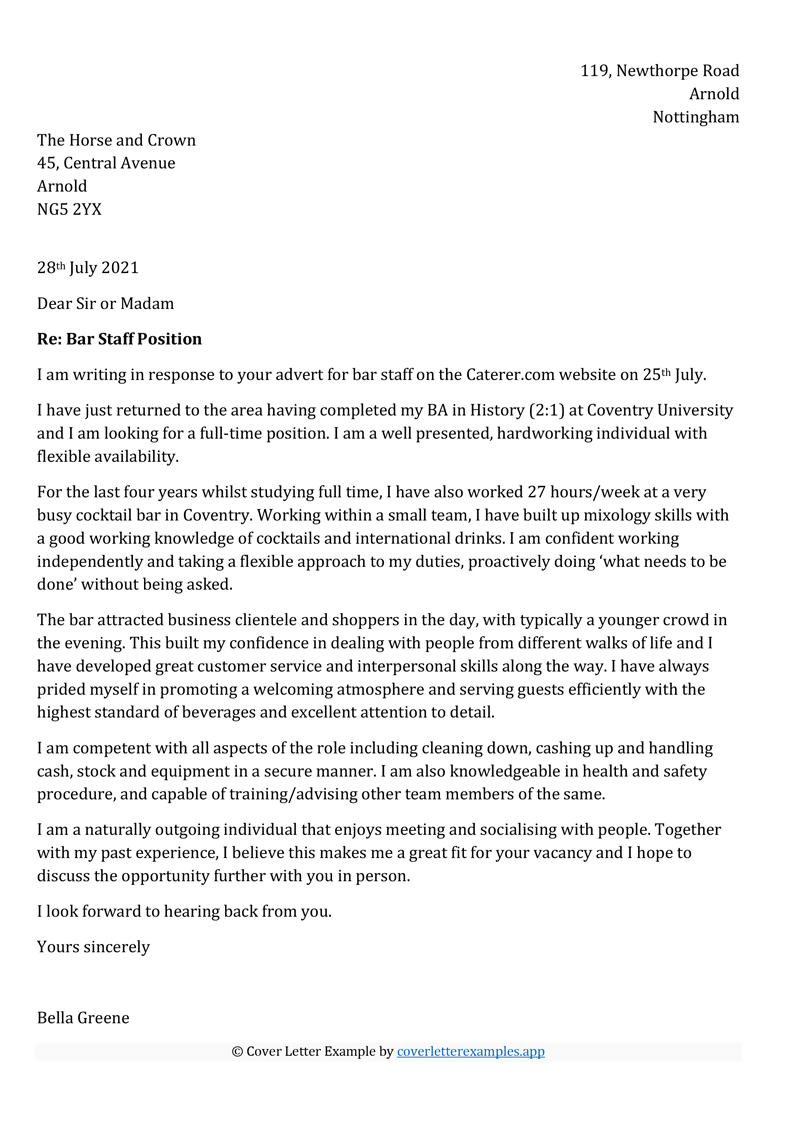 Bar Worker cover letter example - full text:
Here's the full text of this cover letter. Download this letter as an editable Word file or printable PDF by clicking one of the links above.
119, Newthorpe Road
Arnold
Nottingham
The Horse and Crown
45, Central Avenue
Arnold
NG5 2YX
28th July 2021
Dear Sir or Madam
Re: Bar Staff Position
I am writing in response to your advert for bar staff on the Caterer.com website on 25th July.
I have just returned to the area having completed my BA in History (2:1) at Coventry University and I am looking for a full-time position. I am a well presented, hardworking individual with flexible availability.
For the last four years whilst studying full time, I have also worked 27 hours/week at a very busy cocktail bar in Coventry. Working within a small team, I have built up mixology skills with a good working knowledge of cocktails and international drinks. I am confident working independently and taking a flexible approach to my duties, proactively doing what needs to be done without being asked.
The bar attracted business clientele and shoppers in the day, with typically a younger crowd in the evening. This built my confidence in dealing with people from different walks of life and I have developed great customer service and interpersonal skills along the way. I have always prided myself in promoting a welcoming atmosphere and serving guests efficiently with the highest standard of beverages and excellent attention to detail.
I am competent with all aspects of the role including cleaning down, cashing up and handling cash, stock and equipment in a secure manner. I am also knowledgeable in health and safety procedure, and capable of training/advising other team members of the same.
I am a naturally outgoing individual that enjoys meeting and socialising with people. Together with my past experience, I believe this makes me a great fit for your vacancy and I hope to discuss the opportunity further with you in person.
I look forward to hearing back from you.
Yours sincerely
Bella Greene